Me With Emilia Fox, who plays Mum, and Ben Chaplain, who plays Dad.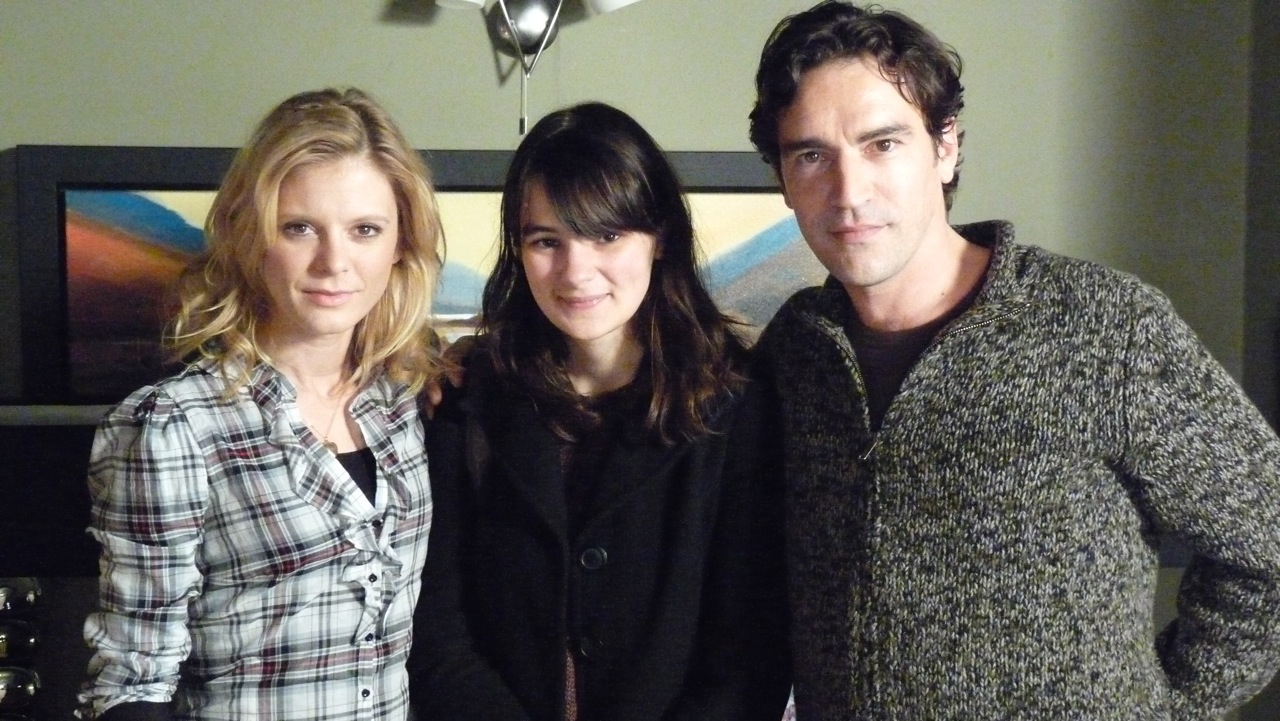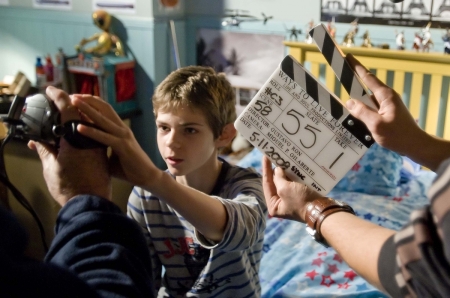 Okay, exciting news first. There's going to be a film of 'Ways to Live Forever'!
It's being shot at the moment in Newcastle – I went to visit the set yesterday, and it is scarily (excitingly) real and film-set-ish. They have built the whole ground floor of Sam's house in a warehouse in Newcastle, with fake trees outside, and a wonderful Sam's bedroom. There are fifty people working there every day, all with very Hollywood-ish titles like Wardrobe Mistress and Assistant Producer and Sound Man. They've even got those people who clap clapper boards and say things like 'Take One!' and a chair with DIRECTOR written on it. I also saw some of the early rushes and it looks suspiciously like a real film, and very beautiful. Sam is being played by Robbie Kay, and other actors include Emilia Fox, Ben Chaplain, Natalie Tena (Tonks from Harry Potter) and Alex Etal, who's playing Felix.
You can follow the film on Facebook:
http://www.facebook.com/pages/Madrid-Spain/Ways-to-live-forever/169503934077?ref=mf&v=wall
although some of the posts are in Spanish – this is because Gustavo Ron, the director, is Spanish (but don't worry, the film is going to be in English too).
They are hoping to have it ready in time to take to the Cannes film festival in May, which is apparently very quick in the film business, and go on general release some time after that.
I will keep you posted of more news as I hear it.
Thanks to everyone who suggested names for the cat in 'Tell Me The Truth About Love' – some great ideas there. I'm afraid the sad news is that Scholastic have decided that they don't want to publish this book at this time, so you'll have to wait a while for a book with a cat in it. However, I'm putting together some ideas for a new book as we speak, so if they say they'd like to publish that book, I will definitely add a cat somewhere.
Until I know what's happening with the new idea, though, THE CAT COMPETITION IS CLOSED. So no new entries please.
Thanks for checking the website and I'll put some more news up as I hear it.
Yours,
Sally