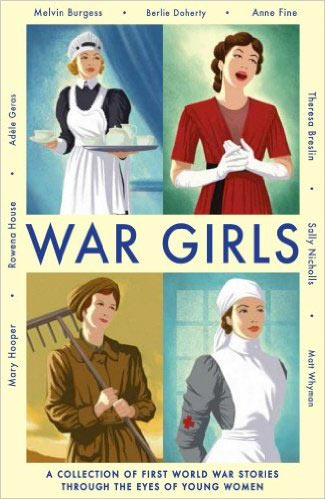 War Girls
'War Girls' is an anthology of stories for young adults about young women in the first world war. It includes stories by four Carnegie medallists, and follows the adventures of nurses, farm-girls, singers, ambulance drivers and even snipers!
I thought I knew all about the First World War. Boys dying in muddy fields in France. 'Remember me when I am gone away', and 'Dulce et Decorum Est, Pro Patria Mori'. War memorials in market squares, and the names of the dead on the walls of churches. I'd never thought about the women, except possibly the nurses, in war films, in long skirts and hats with crosses on them.
'Going Spare'
When I was asked to write a story for 'War Girls' I knew I wanted to write about the 'spare women' leftover after the Great War. In 1918, there were two million more women than men in Britain, who had to make lives for themselves without a husband. These women became pioneers, campaigning for pensions, university degrees, equal pay and entry into professions such as engineering which had been closed to them. My story is about those women.
Next?
Next? is an anthology of stories for teenagers about the afterlife. When I was asked to contribute a story, I knew I didn't want to write something fantastical. I wanted to write about a young person for whom the afterlife is a real and pressing problem now.
"Pretty much everyone I love is going straight to burning hell, so sometimes I wonder why I'm trying so hard to get into heaven."
The Fallen
My story, The Fallen, came from two places. From my mother, who is a teaching assistant, wondering what to say to a little girl who told her, "All the girls in my class are going to hell, because they don't wear the veil." And from a family friend who is a vicar, talking to a parishioner whose brother had killed himself. "I don't want to go to heaven," she told him, "If my brother isn't there."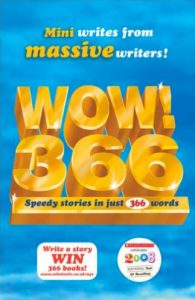 WOW! 366: Speedy Stories in just 366 words
Wow! 366 is an anthology of 366-word-long stories published to raise money for Childline. Full of stories short enough that even the most harassed parent or teacher can find time to read one, it includes work by Geraldine McCaughrean, Roald Dahl, and even Gordon Brown!
"He was small and pink-eyed, with white fur and a pink tail that curled around Narinder's coloured pencils."
Sally wrote Narinder's Mouse as part of this collection of stories.