So much news!
Lots of really exciting things have been happening to 'An Island of Our Own'.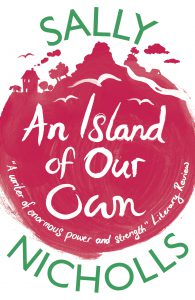 It has:
WON the Independent Booksellers Week Award
Been SHORTLISTED for the
Costa Book Award (children's category)
Guardian Children's Fiction Prize
Brilliant Book Award
Bolton Book Award
Calderdale Book of the Year
Been LONGLISTED for the
United Kingdom Literacy Association Book Award
and NOMINATED for the Carnegie Medal.
Phew!
It was also book of the week in the Sunday Times:
http://www.thesundaytimes.co.uk/sto/culture/books/fiction/article1544164.ece
And reviewed in the Guardian:
http://www.theguardian.com/books/2015/nov/14/an-island-of-our-own-by-sally-nicholls-a-touching-treasure-hunt
The Guardian Children's Fiction Prize judges called it:
A perfectly crafted book.
and said:
This is a joyful Treasure Island-style mystery for the Instagram generation. A loveable young pair don't face pirates as they seek their late auntie's buried hoard, but more contemporary devices – from crowdsourcing clues to metal detectors – winningly deployed in this funny and tender exploration of what makes a family.
The Costa Book Award judges said it was:
A very modern book which has the feel of a classic as well as heaps of heart.
Which was all very nice.
Basically, if you're going to buy a Sally Nicholls book, you might want to buy this one.