Oh dear. Can it really be November since I updated this site? That's terrible. What was I thinking?
Well, I'd better have some good news for you since it's taken me so long to post anything. My first set of good news is that the medieval book will be out in March! Which really isn't very long. Especially since I haven't quite finished it yet …
It also has a new title – 'All Fall Down', and a cover:
Isn't that gorgeous? I can't wait to see the finished version. It will be a trade paperback (large format, like the purple and green 'Ways to Live Forever' and 'Season of Secrets'), with endpapers, flaps, and textured cardboard finish. Very exciting!
If that wasn't exciting enough for you, 'Ways to Live Forever' and 'Season of Secrets' are also getting rebranded, with new covers to match the new Sally Nicholls look. 'Ways to Live Forever' will be blue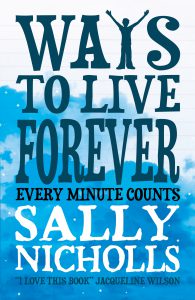 And 'Season of Secrets' will be red
I think the new 'All Fall Down' is still my favourite though …
A lot of people have asked about the film – is it coming out, when will it be in cinemas, can I get hold of a copy somehow? The filmmakers are still hoping for a UK cinema release, but have promised that if it doesn't happen, the film will be made available to fans – either in DVD format or on the internet. I'll let you know when I know.
As for me … I'm still here, still writing, still messing about on the internet. I'm planning on staying in Oxford for at least the next three years, which is great, something I'm really happy about. I've started work on the next book, which is also really exciting – something different again, although like all my books, it's also about family, friendship and growing up in a world that sometimes seems out to get you. I haven't killed anyone yet, though.
Oh, and I'm also on Twitter. You can follow me @Sally_Nicholls. Look forward to seeing some of you there!
I hope you all having a lovely summer. I've had a great week in Wales, walking coastal paths, swimming in the at-times icy sea and feeling happy to live in such a beautiful nation.
Take care,
Sally