Well, it's finally here.
After three long years (and if they've felt long to you, they've felt even longer to me), 'All Fall Down' is released into the world.
The official release date is World Book Day (which is next Thursday), but copies have been sighted in bookshops, it's available to buy on Amazon, and I know one or two of you at least have already got your hands on a copy. My mother's read it (and liked it). It's here.
All three of my novels are also being released as e-books on March 1st. I'm intrigued to see what happens with the e-book editions. Do teenagers buy e-books? (Do teenagers buy books at all? I read voraciously as a teenager, but I rarely bought books. I just forced my local library to order the complete works of Terry Pratchett and Anne McCaffrey in for me. Which they did. Go libraries!)
Also here are the new covers for 'Ways to Live Forever' and 'Season of Secrets'.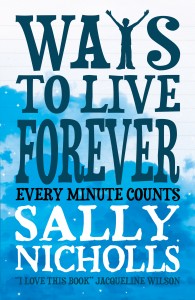 I feel a bit sorry for my publishers. They really like the idea of giving all my books matching covers, and I keep confusing them by writing completely different books each time.
The book I'm writing at the moment is different again. Sorry, guys.
One of the nice things about having a book out is that you get invited to all sorts of interesting events. I'm going to be speaking at the Oxford Literary Festival on March 24th, alongside Patrick Ness, Tim Bowler and Moira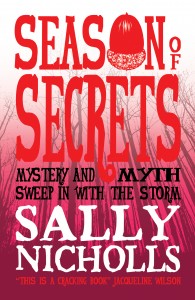 Young. I'm also going to be doing two events at the Edinburgh Book Festival – a public talk on 'All Fall Down' and a schools event on 'Next?' an anthology about the afterlife which is coming out in June, and in which I have a story. Keep an eye on the Events page for dates.
This March, I'm a guest editor at www.lovereading4kids.co.uk. I'll be talking about some of my favourite books for young people (something I get asked about a lot). Please note that I'm only guest editor for March, so you won't be able to read my selection until March, and after that you'll have to hunt for me amongst the past editors.
If you live in America, you'll be pleased to hear that the Ways to Live Forever film has found an American distributor. Hurray! This means it should be showing in American cinemas – I'll let you know when I have an American release date.
Some of you may also have noticed that I now have a mailing list. You won't be bombarded with emails if you sign up. (Cue amused 'huh's from people who've noticed how often I update this website.) But I will try and put some EXCLUSIVE CONTENT in the emails as an incentive to sign up.
Happy World Book for Thursday. Why not celebrate by going into a bookshop and buying yourself a book?
Sally